Mount Royd is a family run Bed & Breakfast.
Our well maintained Period Residence is set in it's own spacious grounds, in a quiet rural area.
Experience both North and South of Ireland with this ideal location.
Enjoy the peace and quiet of the countryside, that once inspired Agatha Christie to write some of her novels.
After your journey, unwind and relax in our sitting room, where you can be sure the kettles always on the boil, with homemade treats available.
Award winning accommodation with old fashioned hospitality.
Great news as Donegal tops the National Geographic 'cool list' for 2017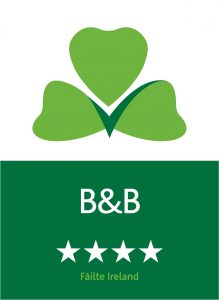 With a weather-nibbled coast spotted with sea stacks, Blue Flag beaches and offshore islands, Donegal is a land that feels undiscovered. Last summer, scenes for Star Wars: Episode VIII were filmed on the Inishowen Peninsula. But this area of Ireland is also expecting 2017 to be a big year; there's an array of reasons to visit, from surfing beaches in Magheraroarty and Ballyhiernan Bay to Horn Head — a driving, walking or cycling loop that squeezes the 1,600-mile Wild Atlantic Way into a 4.5-mile nutshell.