Mount Royd is a family run Bed & Breakfast.
Our well maintained Period Residence is set in it's own spacious grounds, in a quiet rural area.
Experience both North and South of Ireland with this ideal location.
Enjoy the peace and quiet of the countryside, that once inspired Agatha Christie to write some of her novels.
After your journey, unwind and relax in our sitting room, where you can be sure the kettles always on the boil, with homemade treats available.
Award winning accommodation with old fashioned hospitality.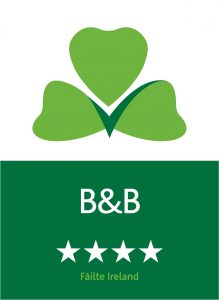 Latest B&B Ireland Customer Reviews
Shawn
Our stay at this B&B was really nice. Mrs. Martin was very nice and accommodating. She was very helpful at providing us with locations to go to for dinner in Derry.
Connie and Garey
We loved staying here!Josephine and her husband made us feel right at home!Josephine was very helpful with directions and suggestions for our daily excursions! Adorable room and bed was so comfy!The breakfasts were amazing!!The Accomadations were close to Derry and many must see areas!
Nicola
All was wonderful. A dream place!!! Great hospitality, big garden, amazing breakfast. Very close to Derry.
Helen Crump
Mt Royd was everything we would have wanted in a Bed and Breakfast. And Josephine was very charming and accommodating. Breakfast was outstanding. We felt very much at home. The rooms were very comfortable and immaculately clean.
Jolene Cypher
Very beautiful, I loved the bed dressing, very Victorian! Great breakfast and wonderful service.
Reviews Powered by B&B Ireland